Some of you maybe recognized the last one and half year I changed my diet to raw vegan. It is a plant based diet without cooking. Just eating whole foods mostly as mono meals. Mono meal is for example a meal out of one kind of fruit. That means I eat 12-14 bananas as one meal or 6 mango. Why I'm preferring to eat like this is for another time. I still love to prepare foods so I'm not only eating mono meals. Being a raw vegan is not only about the diet but it is also about caring about the environment and animals.
That is why I visited a vegan event – veganske hody (vegan feast). To meet new people, make new connections and friends. My girlfriend Kristína and mom went with me.
Journey begins
6:45 am ringing alarm. Postponed to 7:15 am. 7:30 am we should leave. Not possible my gf is still preparing. How usual. Leaving home 7:45 am and picking up my mom. Arriving 10:15 am in Trnava where the event takes place. Stalls are just preparing. But everyone is almost ready. Kristína and mom are already claiming that they are hungry! No wonder. Everywhere around us are these smells of delicious foods! As first we check all the stalls with foods to see what they have to offer. It takes us not much time because it is not that big as the event which we visited a month ago in Bratislava. But we have still to choose from. For me as a raw vegan there are not many options left what I can choose from. I found my favorite! BEMBA raw vegan restaurant!
Meal time
Me and my mom choose raw burger at BEMBA! Excellent choice! So tasty! The taste reminds me on pizza. And who doesn't love pizza? Kristína's choice is Forky's Burger! Her reaction is satisfying! She say's: "If they didn't tell me it's a vegan burger, I would think it's meat".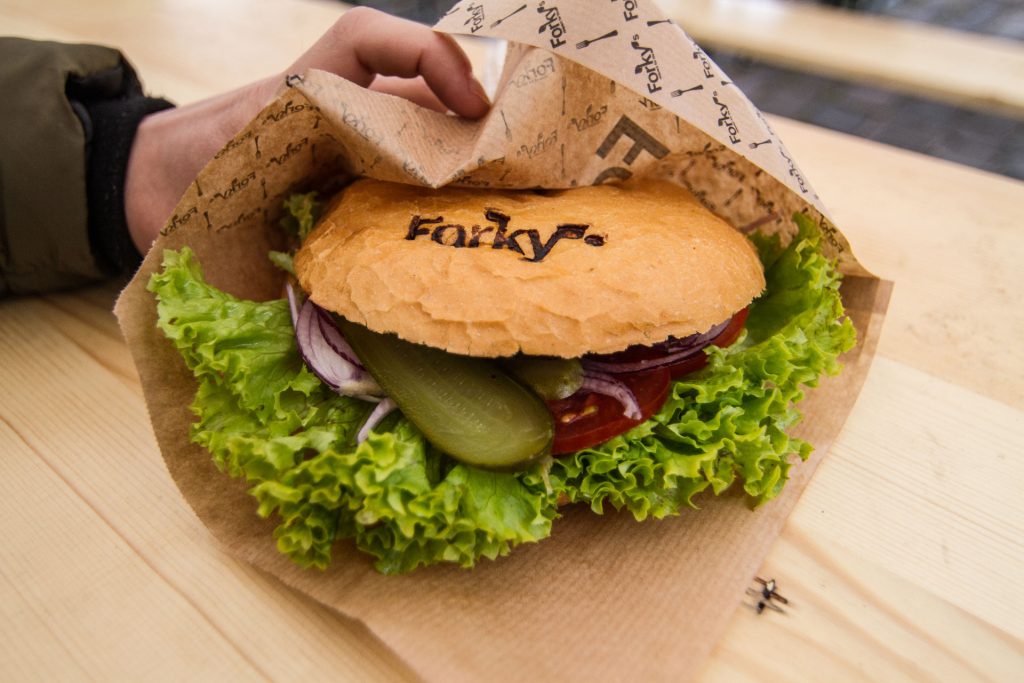 veganske hody
Just finished my burger and already looking for the next meal I would like to try! And yes of course I visited my favorite stall again! This time me and my mom are going for the raw wrap.
Time for desert! Check out this beautiful cakes! Without sugar, gluten free, lactose free and of course raw!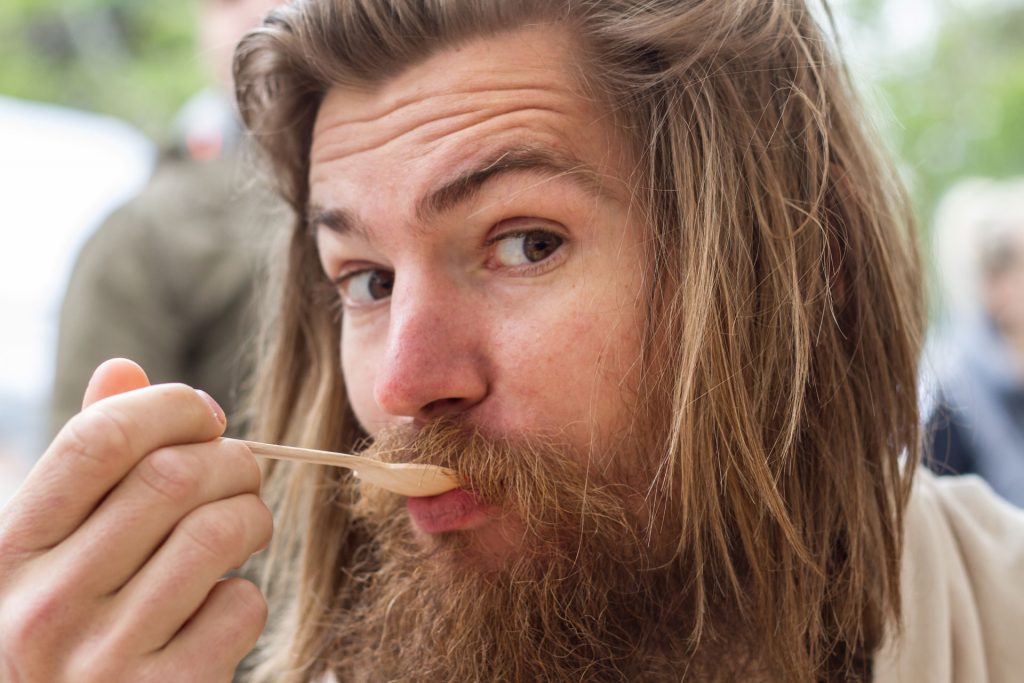 Got those cakes from Bemba as loyal customer for waiting the long lines at the stall. Thank you Marek Horvath and Magdalena Hola! Especially these two cakes are the recipes from Magdalena. They told me that they were traveling the world and working on different places together. Places like Taiwan, Thailand, Bali, Singapore. In Thailand they made a training as plant based chefs. In Singapore they made their historically first event "fine dining raw a vegan" in one famous local restaurant. After 3 years they returned back to Slovakia. Nowadays they would like to start with some projects around restaurants or product factory in Slovakia, Czech Republic and Austria. They got my support! Good luck!
Fake or true?
For now our bellies are satisfied. But we are becoming thirsty! Looking for the best refreshing drinks on spot. We find various stalls. PIJO BIO is one of them. We're welcomed by a sympathetic lady. She immediately offers us a tasting of their syrups and juices. PIJO BIO products are in bio quality, without sugar, flavorings and additives. So they say! I tried a birch juice and a mango-apple juice. They taste amazingly good! But one thing I'm not sure about is. They say it is just from pure fruits and sources. In birch juice case: I was trying the juice directly from the tree and it was not sweet as much as their juice. So I'm asking what did they add? Or they have some special trees? Do you know more about it?
No alcohol
Continuing trough the feast… my girls make a stop at Slobodné vinárstvo (Free winery). The lady from the stall offers us to taste on some of their vines. I reject friendly, because I'm not drinking any alcohol anymore. But my mom and Kristina are going for it. At least they have one positive message for those who drink. All wines are fermenting in a natural way without adding selected yeast and oenological tricks. Oenological tricks? Who knows what that means…? NAZDRAVIE!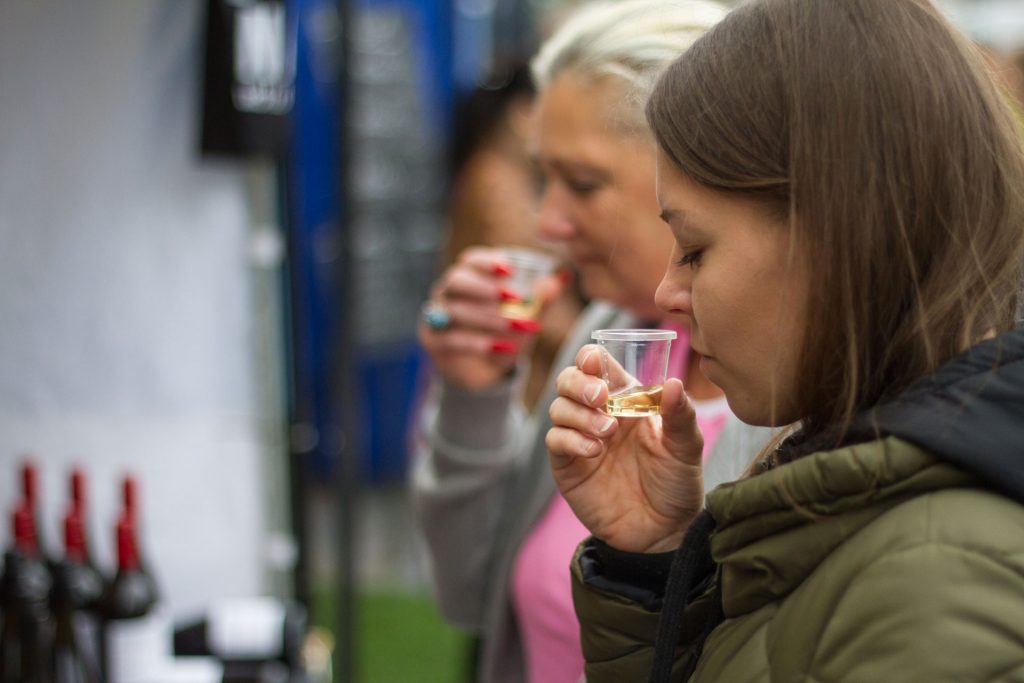 Activities
On spot people could sign some petitions against animal cruelty. I already signed all of them on the previous event. There was a program going on the whole day.
Program:
11:00 am – 11:30 am Alexandra Demetrianová – Ide o chlp: Prohibit fur breeds in Slovakia! (lecture)
12:00 am – 1:00 pm Marína @vegan.ske – Carrot-chia mash with chocolate (cook show)
1:30 pm – 2:30 pm Martin Smrek – Effective animal rights activism (Lecture)
3:00 pm – 4:00 pm Bc. Radek Látal, DiS. – How to stay a/live on a vegan diet (lecture)
4:30 pm – 5:30 pm Ovocný check – Grilled veggie rice (cook show)
Time has come
Our time has come and we're leaving this great event! We have to make it to Born to Trick Academy for the training! Thank you everyone who made this event possible! See you on the next event!
Enjoy more pictures I made
SUBSCRIBE and share if you like this post!
Keep vegan!
veganske hody
Leave a comment!