It all started in Banska Bystrica on Parkour Meeting 2019. We're preparing our place for night. Kristina has a snack and I have a big appetite for something too. I do not have anything with me so I'm just speaking about some meals I would like to eat now. I think about the meals by Bemba. My favorite and only raw vegan restaurant I visit. I just got reminded that they are on the VegDay cerveny kamen tomorrow. Telling Kristina about it and she started to think about the idea to go there tomorrow. We're checking the program and the tickets. Program says that there is power yoga and Wim Hof method workshop. We like it and are thinking about to go there. And yes we buy the tickets and plan when we leave tomorrow. There will be a morning power yoga and Wim Hof method but they have workshops in the afternoon as well. So we can stay for the morning workout here in Banska Bystrica and shoot something at the local spot before we leave.
Morning next day
Waking up 8:00 am and packing everything into the car. Ready for the morning workout. Kristina is joining the workout and I'm shooting it. Then we split from others to get some shots on the local spot. We're practicing and shooting for one hour. Now it is time to leave for VegDay cerveny kamen.
Vegday cerveny kamen
The travel took us 2 hours by car. But now we arrived and are heading to the entrance. Hunger… we're looking for some food immediately. Suddenly someone pokes me I'm turning back thinking who could this be on this event?! Robert! A friend I met some days ago on a vegan picknic in Bratislava. He invites us to his stall with cafe. But first we're splitting to get our meals. Kristina is going for the forky burger and I'm on my way to Bemba! While I'm walking towards my favorite stall a photographer stops me and asks me if he could make a photo of me. Yes why not. He looks for the perfect angle and there it is. Now I can continue to finally have my meal. Marek and his father and girlfriend Magdalena are already serving their delicious foods! I'm getting the raw vegan burger! Kristina is joining me and we're looking for some shadow under trees. Almost everyone was sitting there hiding from sun. Beautiful weather! Finishing my first burger and going straight for another one. Eating three of them. Satisfied we're going to check out other stalls.
Mushroom cafe?!
Kristina is looking for cafe… time to visit my friend Robert Koncal with his DXN stall. Arriving there he starts to introduce his cafe. He speaks about the reishi mushroom and how it works in combination with cafe. Cafe is forming an acidic environment and reishi mushroom creates an alkaline environment. For those who have heartburn is an acidic environment unpleasant. That means that cafe is not good for them. Robert says with the combination of reishi mushroom this becomes neutral and people with heartburn can enjoy this cafe without consequences. Never had heartburn so I cannot confirm this. But one thing is for sure. Cafe is a big stimulant (caffeine) that's why I'm not drinking cafe. But I'm making an exception this day and I sip a bit from the cafe to taste on it. Tastes to me like the cafes I use to drink. Before I took the sip Robert assured me that the reishi mushroom and the cafe was not processed under heat but was processed raw. He also gives me a little gift. A small sample of cafe I could make home with no hot water. Thank you!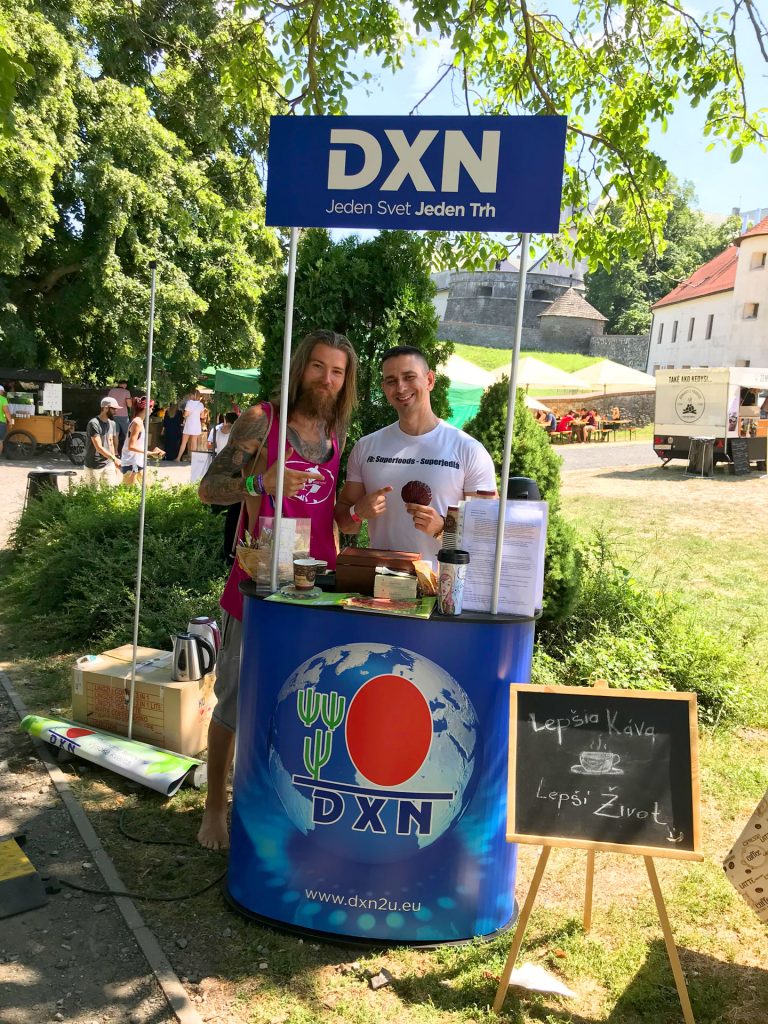 Raw ice cream stall?
We're thirsty now. Kristina has a bottle of water in the car. We decide to go for it. On our way we're going along a ice cream stall. Stoping there hoping that they also have a raw version of it. And yes they have! But… sugar in it. Kristina does not care but I do. No ice cream for me. Maybe next time.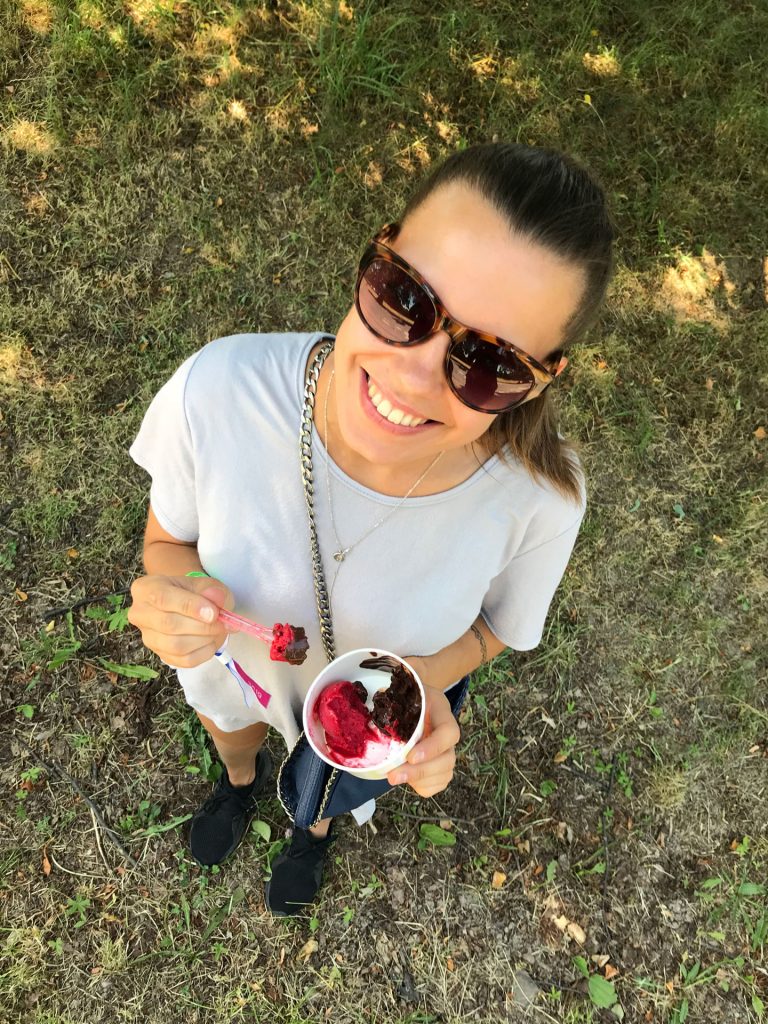 Huge tree
Returning from car back to the event I just spotted a huge tree with a massive trunk! To hug it around you would need more than 5 people! Check it out:
Random photoshooting
Walking trough the festival we meet the photographer who was making the picture of me earlier when we arrived. His name is Javor. He asks me for contact. Because he says has this nice picture of me and he would like to forward it to me. He also asks if we could make some more pictures. I'm open to this and we go straight for it.
Check out Javor's facebook page – Javor Photography or instagram
Wim hof method
After the shooting we are looking for a place at the Wim Hof method workshop. The workshop is led by Michaela Davidovičová. She is one of the 400 people world wide who are certified instructors and went trough the course with Wim himself. What a honor! Michaela speaks about the mindset and the attitude to cold. First we have to change our mindsets. We were told since childhood that cold and cold water is harming us. Instead of the mindset cold water is healing us. What you wish for you get. Know the law of attraction? Universe is your Jin and makes your wishes come true! Then she speaks about the breathing method exercise. I already tried it and I have to tell you guys I was so surprised by it! Everyone of us already tried to hold the breath as long as you can. I use to have a record with inhaled held breath for 1min 10-20sec. After doing this breathing method I held my breath exhaled! without any pressure for 2 minutes! I was absolutely shocked! You have to try it. After the breathing exercise we cooled down in well water. There should be ice in it but they did not get any. Maybe next time!
Tereza maŠková a dj tager
We are hungry again! Let's go find some meal! My only option is Bemba again! This time I'm choosing raw vegan sushi and Kristína is going for roasted cauliflower with rice by Balans bistro. We got our meals! Time to find some nice place to chill and listen to Tereza's concert followed by DJ Tager!
Beautiful spent day. We met new people and made new friendships! Time to go home!
I also would like to thank the whole VegDay team who made this happen! If you missed this event don't worry there are two events upcoming now. See you at wakelake!